The best (or worst?) Personalized jerseys of the year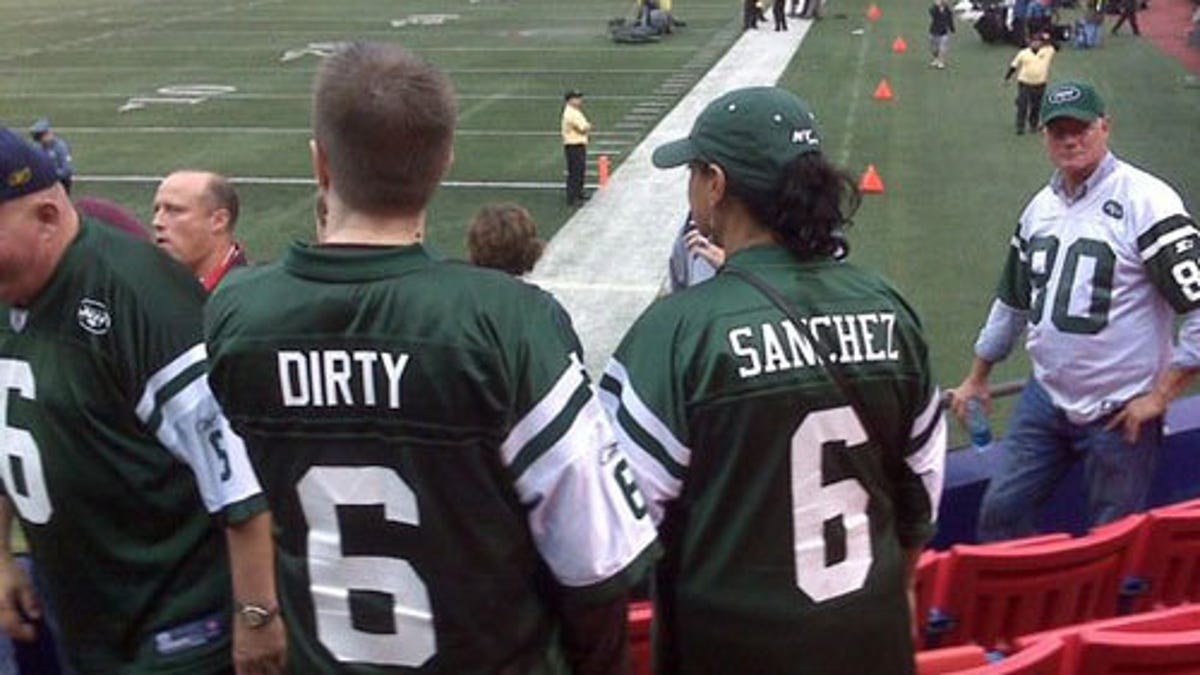 It really takes a lot of courage to buy (and wear) a gag jersey. You're basically paying $ 150 for a portable punchline. Sometimes it works great and sometimes … well, they are sent to us and we do a gallery.
The Favrebag seemed to generate a lot of interest from readers, as the past few days have seen a flood of fan submissions who just couldn't resist the opportunity to wear their sense of humor on the back. Fashion-comedy genius or a mess of good polyester? You decide.
Keep send more and we'll add them to the collection. (Also check out Puck Daddy's "Jersey's fouls" for more shirt-based awkwardness.)
This one gets points for difficulty, as it requires both partners to be in sync for the joke to work. Unfortunately, he is losing points because the people behind him are trying to eat nachos. [Submitted by reader Arthur]
G / O Media may earn a commission
Capitalization unnecessary. Yes! Yes! YES! [Submitted by Brent]
Uh. It's not that drunk. (Nice helmet though.) [Submitted by Shannon]
Hey, Utah! Get me two. [Submitted by Andrew, Taken at Eagles-Chiefs game in Philly]
Celebrate the greatest moment in White Sox fan history. Plus, elder abuse is always good for a laugh. [Submitted by Alex – "Taken at the 9/25 Sox-Tigers game"]
It's more confusing than Kordell Stewart's career. [Submitted by Zach – Taken at Bears-Steelers game, Week 2]
It took a while, but being a Steve Bono fan ultimately pays off. [Submitted by Sully]
Don't ask me ….[[[[Bangin panger]
Again, I don't really know who we're talking about anymore. [Submitted by John]
When Stinky met Pujols
Truth in labeling?
No autographs, please. Mr. Hellraiser has a plane to catch
There's a 60% chance that this guy is actually called Hingis, and a 40% chance that he's actually an NFL Europe jersey. Either way, it's still confusing. [Submitted by JNP – no other info]
And that's the main thing, because I stole this from Drew Bledsoe's closet. [Submitted by John S. – "walking into the TD Banknorth Garden in Boston for the 10th anniversary of WWE Smackdown, of course."]
Sigh…. [Submitted by Brendan]
The legend of Najeh Davenport will live on forever. [Submitted by Ben]
No idea… [Submitted by Meg]
This jersey is not included here for the insult – again, when you put it on your back now you describe yourself – but for the duct tape which takes the pathos to a whole new level. [Submitted by Jeff H.]
"Don't tell me that 'olé' bullshit." [Submitted by Jody C.]
Come to think of it, is that really an insult? [Submitted by Cameron F.]
Gee, you'd think the First Lady could get better seats. [Submitted by Ricardo]
The truth in advertising. The guy definitely has a helmet painted on his head. [Submitted by Phil G. – "taken at Colts – Seahawks game"]
You know, there aren't many people left these days ready to criticize international terrorism through a t-shirt. Thank you, sir, for your courage. [Submitted by John T. – "Snapped this from my terrible seats during the Redskins thrilling 9-7 win over the Rams in week 2."]
And then the fall of a cliff and the meteoric death
I hate you a lot, except for Jim Edmond, she agrees. [Submitted by Boose, in St. Louis]
According to the author of the submission: "This was taken during a Mets / Cards match in August 2008. At one point they played 'Enter Sandman' over the PA and this guy totally lost. his shit. " Wow. This is a surprising detail! [Submitted by Chris H.]
Almost there….[[[[Going through]
Let's go. Taking it as biblical was exactly what we needed here. [Submitted by Cameron D. – no, not that one.]
That's a shame. With just a slight tweak that could have said "Wicker". [Submitted by Dale N.]
Have you ever woken up in the morning saying to yourself, "You know what? I must pay a permanent tribute to a horrible movie that nobody ever talks about or even remembers fondly, then carry that on my back. "Yeah, me neither. [Submitted by Ryan W. – "at the Phillies-Rockies game"]
No sign of Laser or Blazer? [Submitted by Areyh]
The good thing is that we now know the clubhouse nickname of Garrett Atkins. At least I hope it's Garrett Atkins and not their new closest.[Photopar[Photovia[Photopar[PhotoviaDenver Post]
It's the last thing you see before you drive your car into the Big Dig wall. [Submitted by Marshall S. – "on the 55 freeway last night (Oct. 9) on our way to Angels Stadium."]